Guest Playlist Curator: Art - "Familiar Taste Of Poison"
by Scy, on Nov 25, 2020 10:35:05 AM
We're picking up where we left off with a new Spotify Guest Playlist! Art, our student council president and now famous Prague College musician, poured out his heart into a very intense collection of his favourite songs, telling a story of love and despair. Let yourself get carried away in this melodic story by opening your heart and soul by opening this link to check it out.

Art shared with us how he came up with a topic: "This playlist is about a girl I met just before the second lockdown began, from her perspective. I've made some educated assumptions for the post-breakup songs. Yes, I've quite the ego. The name 'Familiar Taste Of Poison' is after the eponymous song by Halestorm. This wasn't the first time I met somebody like her, nor was it the first time she met somebody like me. We both knew how it would end. We both went for it anyway."
"Art - Familiar Taste Of Poison" Tracklist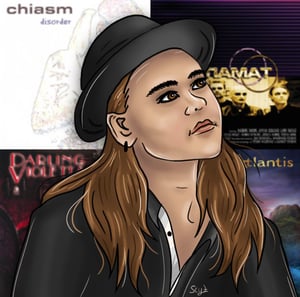 Chiasm - Isolated
Fairly self-explanatory. 'Isolated' is the word to describe how a lot of us are feeling in lockdown.
Tiamat - Brighter Than The Sun
A driving follow-up to Isolated. Our first meeting - fiery passion with a dark undertone.
Darling Violetta - A Smaller God
The day after, after I've left and gone about my own business.
Visions of Atlantis - The Deep & The Dark
The several weeks we're together.
Eluveitie - A Rose For Epona
I'm done with the relationship and leave.
Sirenia - The Path To Decay
The beginning of a downward spiral into depression.
Marilyn Manson - Sweet Dreams (Are Made Of This)
Hard drugs and alcohol - one of the reasons I bailed, - not a good combo. The girl drowns out reality with their abuse.
Rik Schaffer - Hollywood Main Theme
A song without words. The haunting riff is perfect for a late night/early morning stroll through the city, with nothing but a pack of cigarettes and a lighter in pockets.
Arch Enemy - Reason To Believe
Something happens - something that breathes life back into our protagonist.
Lacuna Coil - Swamped
A dark yet hopeful ending to the playlist, a reflection of our times.
Playlist link - https://sptfy.com/5iit
---
Do you want to be a Prague College Playlist Curator?
The playlist is 100% up to each curator. Playlists can be genre themed (hip-hop, hard rock, folk), based on Mood (romantic, workout, summer vibes), Era themed (70's, 80's, 90's), Event/holiday themed, or completely Random. Just Submit a Playlist and add your tracks! You will be notified by email if your selection makes the cut!
Just want to get involved?
For the Prague College Playlists, our listeners are welcome to submit one or two of their favourite tracks. Submit your track to our Instagram stories/DM or send us an email at music@praguecollege.cz following the call for tunes!
Playlist submission link: https://forms.gle/dn5eTmXaBkQdbjWm6
---
Prague College Music Society
Do you listen to music? Do you love music? Do you live music? Then you're speaking our language mate! Join us for weekly meetings, jam sessions and more! And don't miss our first ever Digital Pub Quiz this Thursday (26/11/2020)!