Guest Playlist Curator: Bey - "Uncountable layers of a personality"
by Scy, on Feb 16, 2021 7:13:19 PM
Our Guest Playlist Curator this week is Bey, who created her playlist like a fruit salad: "All of these are delicious". Bey is from Germany and will finish her bachelor of arts this year. Read more about how she came up with this playlist and the title below, and don't forget to visit Spotify to hear the songs for yourself!
---

"I love music and the way it makes me feel, that's why I signed up to be a Spotify Playlist Curator.
The title was inspired by people around me. Everyone has a lot of layers in themselves, and they probably don't even know all of them. Music helps me to discover new versions of myself, that's why I came up with this title. The songs I added have different moods - almost like an emergency playlist for any case. This playlist is for everyone who needs new music!!"
"Bey - Uncountable layers of a personality" Tracklist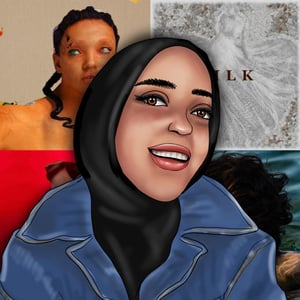 Silk - Elijah Blond

Human - Sevdaliza

Indigo Night - Tamino

mary magdalene - FKA twigs

Black Swan - BTS

SLOW DANCING IN THE DARK - Joji

Intro: Singularity - BTS

Redbone -

Childish Gambino

All For Us - from the HBO Original Series Euphoria - Labrinth, Zendaya

Daddy Issues -

The Neighbourhood

Feels Like We Only Go Backwards -Tame Impala

Dinle Beni Bi' - Yüzyüzeyken Konuşuruz

Simon - HYUKOH

Mystery Lady (feat. Don Toliver) - Don Toliver, Masego


Knee Socks - Arctic Monkeys

You Know Me Too Well - Nothing But Thieves

Alrighty Aphrodite - Peach Pit

Sex, Drugs, Etc. - Beach Weather

XI - CODE KUNST, LeeHi

Lost in My Boots - KWAYE

PARACHUTE (Feat. OHHYUK & Dok2) - CODE KUNST, Dok2, OHHYUK

Taxi -

Lary

Dünya'm - Ozbi

Mavi Ekran - Adamlar

Sarcasm - Get Scared

Zasnezhennye Parusa - Gruppa Skryptonite
RE-BYE - AKMU
Playlist link - https://sptfy.com/5v0c
---
Click on one of curators below to listen to the previous playlists!

Do you want to be a Prague College Playlist Curator?
The playlist is 100% up to each curator. Playlists can be genre themed (hip-hop, hard rock, folk), based on Mood (romantic, workout, summer vibes), Era themed (70's, 80's, 90's), Event/holiday themed, or completely Random. Just Submit a Playlist and add your tracks! You will be notified by email if your selection makes the cut!
Just want to get involved?
For the Prague College Playlists, our listeners are welcome to submit one or two of their favourite tracks. Submit your track to our Instagram stories/DM or send us an email at music@praguecollege.cz following the call for tunes!
Playlist submission link: https://forms.gle/dn5eTmXaBkQdbjWm6