PC002 - Welcome Week 2019 Playlist
by Ry Hallada, on Sep 25, 2019 5:15:45 PM
Prague College Spotify Playlists:
PC002 - "

Welcome Week 2019"
The Welcome Week 2019 events are coming to a close, but before we switch the track on this semester, let's turn up the volume one more time! The Prague College Spotify Playlists are a collection of music that we'd like to share with our community. Each playlist is inspired by a theme, a time of year, a genre, or in this case, a celebration of diversity. The playlists typically have one curator, but this time we've opened it up to our new international students to help create a soundtrack for the first days in Prague, and with us at the College. Stay tuned each month for freshly curated playlists for your musical enjoyment! Check it out here.

The newest members of our community have joined forces to create of collection of tunes that represent a new beginning, not only in life, but also at Prague College. This specially curated playlist combines tastes and genres from international students that have joined us in 2019. Enjoy "PC002 - Welcome Week 2019"!
PC002: Welcome Week 2019 Tracklist
1. Back In Black - AC/DC
2. Club Poor - Rynx
3. Acapella - Mikolas Josef
4. Felices los 4 - Maluma
5. BIBA - Marshmello
6. What's Up? - 4 Non Blondes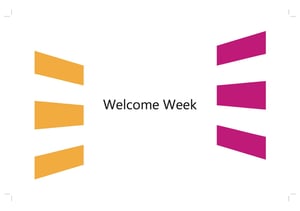 7. Contra La Pared - Sean Paul
8. Seven Nation Army - The White Stripes
9. Freak Like Me - Halestorm
10. Run To You - Bryan Adams
11. Comin' Thru - Chali 2na
12. Run - Ludovico Einaudi
13. Fuego (with Sean Paul & Anitta, feat. Tainy) - DJ Snake
14. Groove Aspect - Paolo Barbato
15. Whatever That Hurts - Tiamat
16. Sink - Original Mix - Mizo
17. Caravella - Edit - Gavinco
18. Allenamento #2 - Capo Plaza
19. Yamaha - Aleksandir
20. SLOW DANCING IN THE DARK - Joji
Playlist link - https://spoti.fi/2Z8KRzO
---
The next Guest Playlist Curator is Ry Hallada, from Student Services! About his playlist he said: "Music has always been a major part of my life. From my first cassette tape to working at music festivals, each genre has had a huge impact on me, but none more than Hip-Hop." Tune in October for Ry's playlist and for an opportunity to submit tracks for the "PC003" playlist!
---
Do you want to be a Prague College Playlist Curator?
The playlists genre is 100% up to each curator. Playlists can be genre themed (hip-hop, hard rock, folk), based on Mood (romantic, workout, summer vibes), Era themed (70's, 80's, 90's), Event/holiday themed, or completely Random. Just click "Submit Playlist" and add your tracks! You will be notified by email if your selection makes the cut!
Just want to get involved?
For each Prague College Playlist (PC001, PC002, etc.) our listeners are welcome to submit one or two of their favourite tracks for our school's official playlist. We'll announce PC003 in mid-October. Submit your track to our Instagram stories/DM or send us an email at music@praguecollege.cz following the call for tunes!
Playlist submission link: https://forms.gle/dn5eTmXaBkQdbjWm6
---