Talking about Art History
by Lucia Ott, on Dec 12, 2017 2:37:31 PM
Since time immemorial, Fine Art has had an enormous impact on society. There are so many famous names within art history that shaped our culture. And of course, today's art and design is affected by many different cultural influences.

That's why, every second Wednesday, students from the Graphic Design and Fine Art programmes get an insight into the history of art from lecturer Theo Carnegy-Tan. Theo is an arts academic and journalist from London. As part of his MA degree in Cultural and Critical Theory from the University of Westminster, he conducted extensive studies regarding the cultural context and reception of cinema, plastic arts and literature. Theo worked at several arts institutions in the city of London before coming to teach at Prague College, where he guides students through the different periods of art history, putting works in context. During his lectures the students also have the chance to bring up their own views and observations.

The most recent lectures have focused on the term 'Modernity', in relation to radical changes in society, particularly the industrial revolution and similar progressions, as well as the urban environment and technology. Related to these societal changes, there evolved many different artistic movements that go under the label 'Modernism'. Focusing on areas such as Cubism and Expressionism, this week's lecture continued to establish what Modernism means. We looked at early 20th-century Italy, were Futurism developed. Futurists wanted to establish a new way of thinking, that saw the future as a continual process of change and rejected old conventions. Constant renewal was considered a value. They idolized the technology and speed that was present at that time. Marinetti's "Manifesto of Futurism" formulated the fundamental thoughts of the movement of Futurism. The aspiration of taking things forward constantly aroused a radical and often controversial understanding of society.
Artists belonging to this movement refused to have their work placed in museums, or as they called them, 'cemeteries' of the past. The Futurists' pursuit of renewal even questioned their own work. Marinetti wrote in his manifesto, published in 1909:
'The oldest of us is thirty: so we have at least a decade for finishing our work. When we are forty, other younger and stronger men will probably throw us in the wastebasket like useless manuscripts–as we want it to happen!'

Students examined Boccioni's painting "States of Mind: Farewells" (1911), that is clearly influenced by French cubism, but already expresses typical themes of Futurism, such as speed and movement within an urban situation. In Giacomo Balla's "Swifts (Paths of Movement)" of 1913, abstract patterns of movement became more dominant. With the technique that can be called 'Dynamism', speed was rendered into the painting. It was not any more about showing the object itself (for example a bird) but more about embodying its movement and the speed.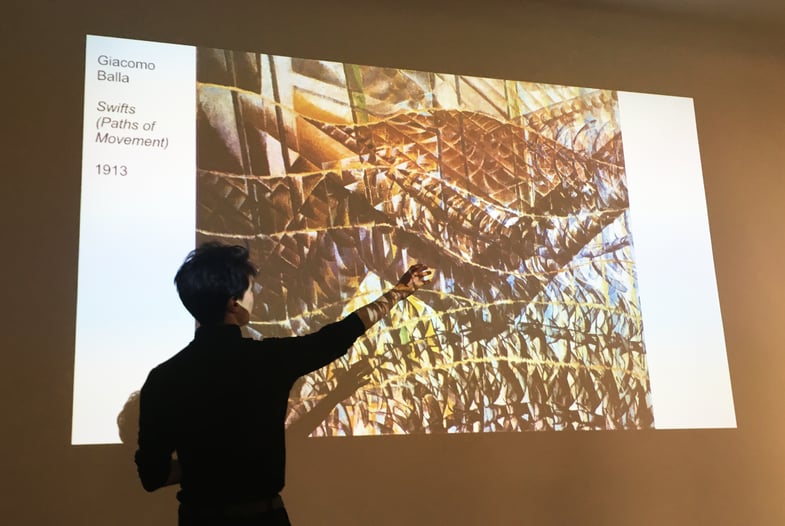 Theo Carnegy-Tan showing "Swifts (Paths of Movement)" from Giacomo Balla
At the end of the lecture, Theo spoke about the movement of Suprematism and the work of Kazimir Malevich. He was influenced by the cubists and futurists, but pushed the understanding of art even further forward. He created the term 'non-objective art' to describe full abstraction. He emphasized that art has his own language, that is not influenced by nature and pre-existing things. Painting is about creating, not copying. Thus he became famous for his work, such as the radical painting of 1915, 'Black Square', which simply shows a black square on a white background. Malevich is a famous example of a person who challenged traditional ideas of art and opened new routes within art history.
The students of Prague College's School of Art and Design are looking forward to learn more about the following art movements, hoping to find inspiration for their own creative work!