Meet our graduate, the Junior Art Director
by Alex Went, on 08 March 2016 09:44:04 CET
Ivana Spackova came to Prague College to study Graphic Design in 2012 and graduated last year with a first-class BA (Hons) degree. We spoke to her about her current projects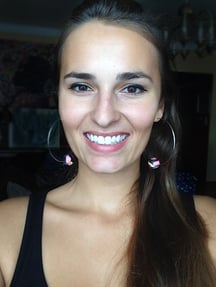 Ivana, first of all, many congratulations on your first-class Bachelor's degree in Graphic Design. You must feel very proud of your achievement. What was the best thing about your Prague College course?
Thank you. Yes, the hard work finally paid off! However, it's not only about the degree, I am mostly proud and grateful for the rich experience I gained during my studies. I would say the best thing about the course was the combination of subjects, which helped me to realize my strengths and qualities. It was also the possibility to experiment, challenge and identify myself as a graphic designer. I felt that everything I learnt over the first two years in the HND programme could finally be put to use and enjoyed in the BA year.
I understand that you are currently working with the French Institute in Stepanska. Can you give us a sense of what kind of work you are doing with them, and what projects you are most looking forward to?
I've been working for the French Institute as a client of the Publicis Groupe advertising agency, where I have been recently hired in the position of Junior Art Director. In November we won a tender for the Institute's visual identity which was mostly based on the quality of a graphic portfolio. Being the responsible for this client, it was my portfolio (with 90% of work from Prague College!) that was successful.


Now, I am in charge of creating visual promotion in all the fields that French Institute is dealing with: French language courses and exams, Campus France, Kino 35, library, art gallery, conferences, festivals and many other events.
Currently, I have finished a campaign for 'Dny Frankofonie' (Francophone Days), an international festival that celebrates French culture and language under the auspices of the Ministry of Foreign Affairs. I am also starting to work on the brief for Philosophy Night, which is another great event hosting well-known philosophers from different countries talking about interesting topics. And last but not least, I am excited about working on the French Movie Festival which will be held in autumn.
What are you intending to do in the long term? Do you expect to work freelance or would you prefer to work for a Graphic Design company or in a department within a different kind of company?
For now, my plan is to gain as much experience in as I can (preferably in the field of advertising). Freelancing is always an option but working on my own will never give me enough of professional practice and communications as being a member of a creative team.
Where do you get your inspiration from? Which other designers have been influential in your work? And which projects are you particularly pleased about?
Sometimes I have to spend hours searching for inspiration, sometimes It just comes to me alone. It really depends on the concept and how much freedom the project allows me, but I always try to work with mixed media and experiment with different techniques. If I were to name a graphic design period that influenced my work the most, I think it would be postmodernism.


No wonder, the projects I am the most pleased about were created during my BA year. They are 'Alice's Adventures in Wonderland' book cover illustration and my final graphic project "Memories of Crete". You can find both in my online portfolio.
I understand that you are interested in pursuing a Master's in Future Design at Prague College when that becomes available later in the year. What in particular appeals about 'Future Design' programme?
The MA Future Design programme would allow me to upgrade my skills and portfolio to another level. It will give me the chance to learn about new design methods and practices and provide me with knowledge about how to direct my professional projects and potential businesses. But most importantly, it would give me space to discover what else is in me as a designer.
Why would you recommend Prague College as a place to study (either for Graphic Design or for some other subject)?
Well, first of all, it's fun! It's a college where you study in a friendly and international atmosphere surrounded with creative classmates and teachers that always encourage you, inspire you and lead you in the right direction in order to reach your goals. No matter which course, the education is highly practical which I believe is the best way to prepare yourself for your future career.
Ivana, thanks for talking to us, and good luck with all that you do in future.