Scholarships & Financing


Scholarships at Prague College
All applicants to Prague College are eligible to apply for a scholarship.
We offer different types of scholarships and applicants should select the one they believe applies most to them. Contact our Admissions Team on admissions@praguecollege.cz if you are not sure which is most appropriate for you.
Academic Excellence Scholarships
This scholarship which may be awarded in consideration of outstanding academic achievement, and engagement within an academic context. This Scholarship can cover up to 30% of tuition fees for undergraduate programmes, or up to 40% for Master's programmes. In either case, scholarships can be awarded for either a single academic year or the duration of the programme.
Social & Professional Engagement Scholarships
The social engagement scholarship may be awarded in consideration of charity or school activities, or generally for positive community engagement in society. At Master's level and for blended learning programmes, we also take into consideration applicants' work experience. This Scholarship can cover up to 30% of tuition fees for undergraduate programmes, or up to 40% for Master's programmes. In either case, scholarships can be awarded for either a single academic year or the duration of the programme.
---
In the assessment of all scholarships, the Scholarship Committee will look at the leadership qualities of the applicant as well as their potential to succeed in their chosen programme at Prague College. Students can only apply for either the Academic Excellence or Social & Professional Engagement scholarship.
We also have a special fund to support students coming from Czech-language and Slovak-language secondary schools and universities. Please ask about this during the admissions process.
Apply early. The number of scholarships is limited!
Bachelor's to Master's Scholarships
All BA or BSc graduates of any programme at Prague College will automatically receive an academic excellence scholarship if they decide to continue onto a Master's degree within the first year of finishing a Bachelor's degree. The amount of the scholarship depends on the final classification of the Bachelor's degree
Refugee Scholarship
Prague College gives out scholarships annually to applicants who have refugee status in the Czech Republic.
All scholarship winners will become a Student Ambassador, which provides the opportunity to develop different skills while engaging in a range of activities and events for the college community.
Scholarships typically cover between 50-80% of the total cost of study.
Industry Network
Applicants who are working professionals have the opportunity to benefit from our Industry Network discount if their company is a member of our Industry Network. In this case, all employees will receive a 10% discount on degree programmes.
Contact admissions@praguecollege.cz to find out if your company is a member of our network.
If you would like more information about our Industry Network and to find out how to join, simply contact ry.h@praguecollege.cz
---

Maggie Jandová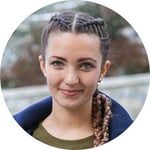 "Thanks to the scholarship I can still get a British degree, which would otherwise be impossible for me, because I can't afford the studies in UK. With the scholarship I was given an opportunity to study at Prague College. I believe that life is not only about taking, but also giving and so I was happy to give a hand when it was needed. I helped with the Graduation Ceremony, Job Fair or the Christmas and Welcome party. In the Leadership Association it depends on the individual how he contributes to the community, but I was trying to be a person with whom others like to work and can rely on."
---
Financing
In some countries government funding is available to support students studying abroad. Students from Norway, Sweden, Belgium and others, have all successfully gained funding from their home countries to be able to support their studies at Prague College.
If you think you may be eligible for funding from your home country do not hesitate to ask for our advice and support regarding any documentation you might need.
We offer complete administrative support for students applying for loans, bursaries and grants to help fund their studies.

Komercni banka student loans for Czech students
Czech students are eligible for Gaudeamus student loans from Komercni Banka. Prague College students have successfully financed their studies under favourable conditions with KB and Gaudeamus student loans, as well as other banks.
Please note that student loans in the Czech Republic are typically available only for Czech citizens and permanent residents of the Czech Republic, subject to credit checks and co-signing requirements. We recommend you to set up an appointment directly with the bank.