Career Fair 2019: Company Spotlight School of Media and IT
by Matthew Butler, on 16 April 2019 00:00:00 CEST
Thursday 18 April 2019 | 10am - 8pm | Room 001/002 | Prague College
The annual Career Fair at Prague College is just around the corner, so let's take a deeper look at which companies and partners will be joining us. Each company has a variety of offers and needs, if you have a media mind-set or developer dreams, be sure to invest some time into an introduction with our partners listed below!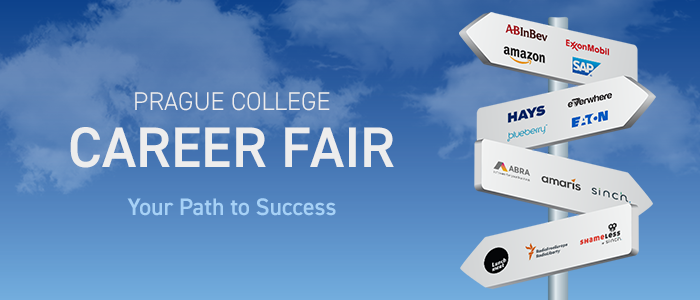 It's been said that "Whoever controls the media, controls the mind." Here at Prague College, we believe that your mind and the knowledge you pursue will help get you to the door of your next big opportunity, but your inter-personal skills, motivation, and ability to make connections are what will get you to the next level.
Take this year's Career Fair as a chance to practice your professional skills, get a few interview scenarios under your belt, and take advantage of using our extensive Industry Network to meet the right people. You just might have an experience that lands you the next big gig or working on the development of an app that changes the way we interact with the world!
Maia Horniak - Program Leader - Creative Media Production
Our Participating Companies and their Representatives in their own words...
---

At ABRA Software we believe that successful entrepreneurs and managers make the world a better place. We create smart software for businesspeople, turning boring data processing into a strategic game and providing efficient tools for better organization and decision-making that results in successful fulfillment of business goals. We help leaders in their field to be successful every day. We don't build software to make money, we make money to make software – software that releases the potential of talented people. We wish for a world where 100% of business time and energy is spent on creativity, new product development and customer care.
EXCELLENT SERVICES: We offer a comprehensive range of services. As a sole supplier, we adapt to our customers' needs in every possible way so that they can rely on us with no hesitation.
SOFTWARE AS A STRATEGIC PART OF BUSINESS: ABRA software frees customers from routine administrative work, increases workforce productivity and makes processes automatic. Being connected to other applications, to cyberspace as well as to the real world significantly expands business opportunities and saves human labour.
VISUALISATION: Visualising information facilitates decision-making. Company data is easily available in a visual and clear form. On your desktop, mobile phone, tablet or even your smart watch, an overview of your company's situation is available to you immediately and at any time.
Who will be at the Career Fair:
Ondřej Špulka, Markéta Madzia


---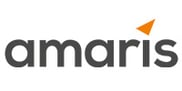 Amaris is an international Technologies and Management Consulting Group with a rapid pace development and innovative solutions for demanding projects. The company's business consists in supporting its clients in carrying out their projects by acting within their organization to help improve effectiveness and enhance performance.
Amaris' added value lies in the quality of its teams and their attention to detail, as well as in the way the company capitalizes on their knowhow.
Who will be at the Career Fair:
David Lacroix

---

The history of Czech Radio began in 1923 in the former Czechoslovakia in a canvas tent in Prague - Kbely. Since then, broadcasting has undergone dramatic developments, from live broadcasting to a digital broadcast, from a private company to an independent public service that is part of the European Broadcasting Union. History was built in front of the historic building of Czech Radio on Vinohradská Street 12, during the so-called Prague Uprising in 1945 or during the occupation of Czechoslovakia by the Warsaw Pact troops in 1968.
Currently, Czech Radio broadcasts on the waves four nationwide and four special stations and operates a regional broadcasting network in all regions of the Czech Republic. Broadcasting abroad in six world languages is an integral part. But the content does not only spread over radio waves. Web sites and mobile applications also make it easy to listen to news from home and abroad, journalism, music and more.
Guest Speaker: Brit Jensen
Radio documentary maker. Born in Denmark, living and working in the Czech Republic since 2004. Has produced audio documentaries for various radios abroad: BBC, ABC, Danish radio. But also a number of programs for the Czech Radio. Working as editor in the documentary unit of Czech Radio since 2015. In 2017 she launched, together with documentary maker Jiří Slavičinský, the programme series DokuVlna, a documentary podcast for younger listeners.

---

Eaton's presence in the Czech Republic dates from 1993 and today, 1,700 people across 3 main sites work at Eaton: Prague, Suchdol nad Luznici & Chomutov. With this fourth location in the country, the number of employees is likely to reach 2,000 shortly. Be part of this new venture and come here with us to enjoy a very dynamic environment and be part of a strong community sharing values that are important for Eaton: People, Trust, Respect, Dignity, Integrity & Customer Orientation.

By establishing an Engineering Campus in Europe supporting both business sectors, Electrical & Industrial, Eaton is looking at:

providing R&D work in selected technology areas
participating and supporting Global Platform Projects
having capability to adapt global platforms to local needs (localization engineering)
developing and designing regional products and accessories
being a resource for existing engineering groups, Computer-Aided Design (CAD) , Product Lifecycle Management (PLM)
providing Value analysis/Value engineering (VA/VE) and sustaining engineering support for selected product lines
Who will be at the Career Fair:
Samuel Marti

---

RFE/RL is an esteemed international media organization based in Prague, Czech Republic and Washington, D.C. RFE/RL's content is delivered via multiple platforms (e.g. radio, internet, social media and television) and has a wide global reach especially among influential people in its 22 target countries, including Afghanistan, Iran, Russia, the Caucasus, and Central Asian nations. RFE/RL broadcasts in 26 languages attracting more than 34 million weekly listeners and 2.6 billion engaged users on Facebook and YouTube. With more than 600 employees, 750 freelance journalists, and 21 local bureaus, RFE/RL is one of the most comprehensive news organizations in the world.
Who will be at the Career Fair:
Erika Grendelova, Marek Navratil
---

Ten years ago, the Sinch founders started as stagehands. Now they run a company that organizes thousands of them every year. This is all thanks to the powerful management tool they have created. The Sinch application has ignited a revolution in short-term work organization as its development was based on first-hand everyday experience, it reacts to real issues, and effectively solves actual problems that concern all short-term employment agencies. After identifying the huge market potential, which consists of hundreds of millions of work hours a year and growing, Sinch now strives to be the new market standard both locally and around the world.
Who will be at the Career Fair:
Petr Jaroš, Jáchym Pospíšil