Multifunctional Period Panties made from Up-cycled Coconuts
by Matthew Butler, on 15 February 2019 14:08:36 CET
A #NoTimeToWaste project for a sustainable future
For Juliana Schneider's BA Graphic Design semester project she developed multifunctional period panties made from up-cycled coconuts for menstruating humans all over the world. The brand is called icoconic.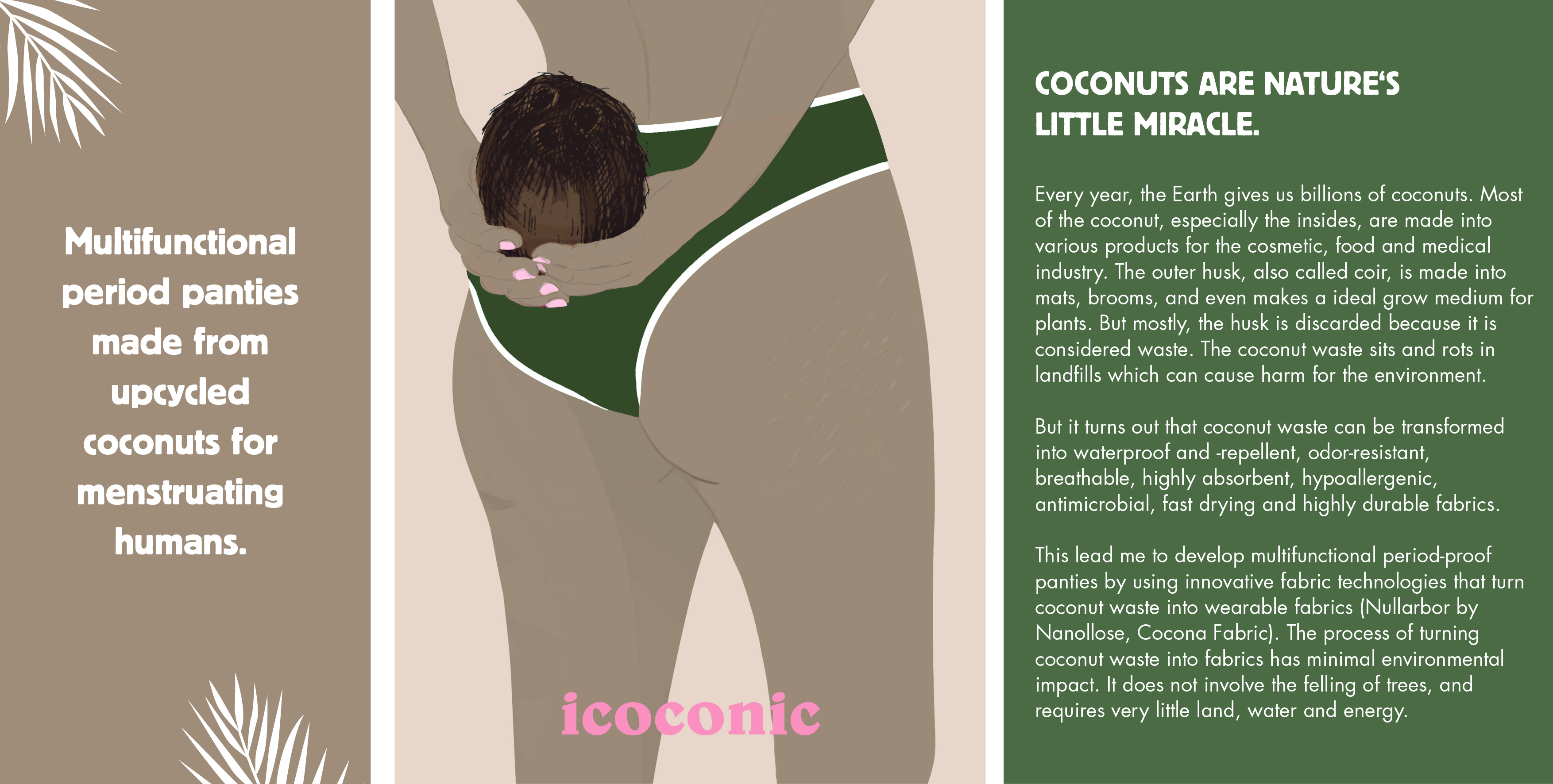 Please describe briefly your work and what is its purpose.
During the research for my project I learned about tropical coconut waste and what it is used for. Coconut fibres are naturally highly absorbent, antimicrobial, durable, odor-resistant and much more. So I was convinced that there must be a possibility to turn this coconut waste into fabrics or materials for menstrual products. So I researched for possible manufactures or ways to make it happen. It turns out that coconut waste in fact can be transformed into waterproof, repellent, odor-resistant, breathable, highly absorbent, hypoallergenic, antimicrobial, fast drying and is a highly durable fabric.
I found out about Nanollose and Cocona, two companies that turn coconut waste into wearable fabrics. Both companies use different processes that have minimal environmental impact. It does not involve the felling of trees, and requires very little land, water and energy. The innovative fabric technologies combined allowed me to develop multifunctional period-proof underwear that can be worn for comfort, active use and for swimming.
The purpose of the panties is to reduce menstrual waste, improve menstrual hygiene, save money on menstrual products, be able to live a healthy and social life, save the environment and of course, help undo the social stigmas surrounding menstruation issues.
Where did your inspiration to choose this particular topic come from?
I choose the menstruation topic to challenge myself and my thinking. It gave me the chance to come up with unexpected ideas that have a global impact.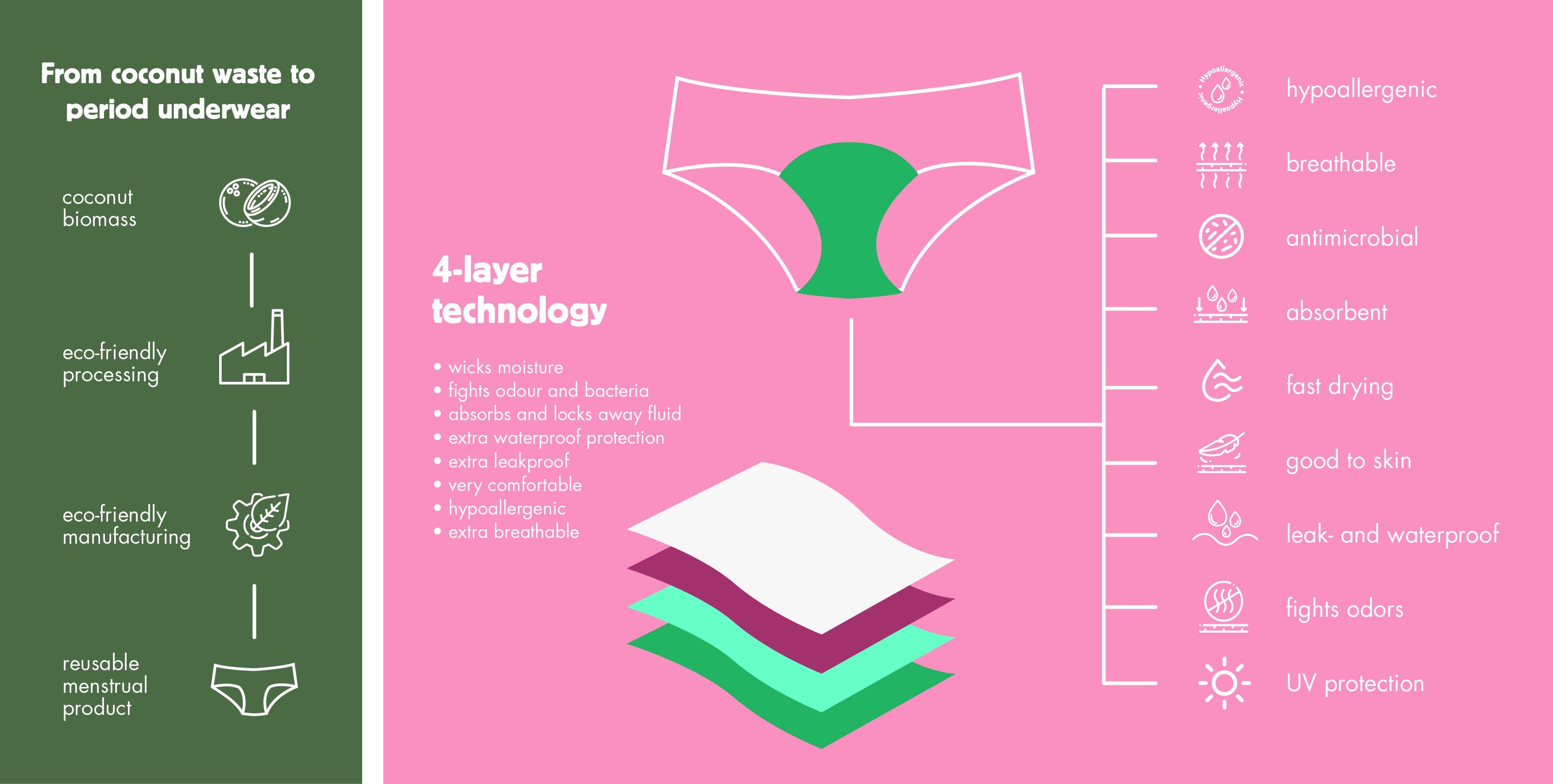 What would you like to influence with your work?
Make people rethink the idea of sustainability. Growing organic cotton, bamboo, avocados, etc. All of these need lots of land, water and energy and even natural pesticides. Sustainability is a modern trend that is often misused in our throwaway society. I believe it is important to be conscious about what you are buying/using, where it came from and what it took to produce it.
For producing the icoconic period panties, only available resources are used (coconut waste). As mentioned before, the process has a minimal environmental impact. It does not involve the felling of trees, and requires very little land, water and energy. The panties are reusable and highly durable so you can ditch disposables for good.
I would like to encourage people to reduce waste altogether and live and act more consciously. Also, I would like to make people see menstruation as a normal and healthy part of life.
What did you learn during your work on the project? What you feel proud of?
I learned a lot about different cultures and their ways of dealing with menstruation. I realised that menstrual hygiene and the access to sanitary products is a big issue all over the world. Furthermore, my research made me very much aware of all the menstrual waste and chemicals in sanitary products. Since finding out about the dangers, I ditched all the commercial menstrual products. I even learned about planting techniques and that menstrual blood is an excellent plant fertiliser!
I'm proud of my work in general as it took a lot of in-depth research to get there. But also because it does have the potential to be realised and produced. I'm currently searching for possibilities to make it happen.