Workshop with Nicole J. Adelman, Public Speaking & Presentations Skills
by Matthew Butler, on 12 March 2019 00:00:00 CET
Wednesday 13 March 2019 | 5pm | Room 001 | Prague College
Invest in your Public Speaking/Brand Communication Skills! This 3 hour workshop will focus on learning the basics of Public Speaking and Oratory Skills.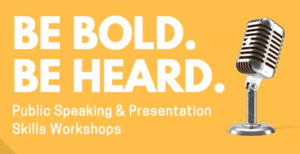 Topics explored will be crafting your Public Speaking
Persona
, Enunciation, Pronunciation, Elocution, Speech as Music and
How to engage your audience
!
Come prepared to move your body. Public Speaking is a fun, empowering, and physical endeavour! Learn how to stand and communicate from a place of Power & Prestige. This workshop will be the beginning of changing your life and transforming how you think and move towards your career.
For artists, business people, entrepreneurs and change makers - whether you are a native or non-native English speaker - you will learn to speak more clearly, confidently, and persuasively... so be bold and be heard!
With over 20 years of performance experience, and equipped with a political activity, competitive speech writing and delivery background, as well as a grounded and passionate interest in the complicated human experience,
Nicole J. Adelman
is thrilled to be your facilitator for this event.
This talk
is organised by the School of Media & IT, but everybody is welcome!
Please let us know if you are coming by sending an email to
veronika [at] praguecollege.cz