From Paros to Prague: a graphic design student's journey
by Alex Went, on 22 September 2016 14:22:56 CEST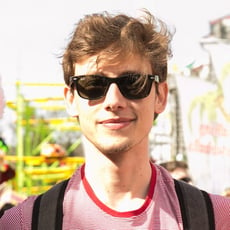 Dimitris Blako is currently in the second year of his BA (Hons) Graphic Design programme at Prague College. In 2016 his designs were used for the poster and digital campaigns of the city-wide Summer Film Festivals in Prague and Brno.
Dimitris, can you tell us a bit about your background?

I was born in Albania but grew up on Paros in the Cyclades. It's quite different from here - a different pace of life. Until this year there was no airport, so you had to get the boat to get to the mainland - that's a five-hour boat trip to Athens. Sure you feel cut off, but on the other hand I quite like the island because it's less affected by influences from the outside, you can have your own thoughts.
How did you come to choose Prague?

I asked a lot of people who had already travelled abroad. They told me about a couple of cities that would suit me as a person. They told me that they thought Paris, for example, was not for me (it was too posh) and I thought Prague was more close. Then I saw the prices and the cost of living, and it was really quite affordable. In the end I chose to live here for the best reasons - it was pretty and it was cheap.

And Prague College?

From Google. I was looking for universities in Prague...
So you chose the city first and programme second? Is that usual?

No, I think most people choose the programme first - I'm just a bit weird [laughs].
Tell us about the work that you have already done here.

I really enjoyed the contextual and cultural referencing module. We dealt with the history of design - how different art movements influenced graphic designers. And recently I found the Personal Style module really inspiring. Our lecturer was very good at giving us directions. My project was to do with the demystification of the Greek gods for a younger audience - who might not care so much about philosophy or drama - the object was to present these stories in a modern, fun way.

And what about the cinema project you did this summer?

Yes, this was a summer film festival held throughout the Czech Republic. My basic concept was pictures of various feet in flipflops standing on hot manhole covers with a melted ice-cream. This captured the idea of summertime, but also I like the manhole covers - they're very decorative and they remind me of movie reels.
Every city has a special design that distinguishes it, so I had to travel specially to Brno (because you can't have a Prazske Kanalizace motif advertising movies in Brno!) There were many of the usual problems communicating, which left me with very little time to finish it off, but in the end they were able to use my poster and the digital designs, and I was really pleased with the result.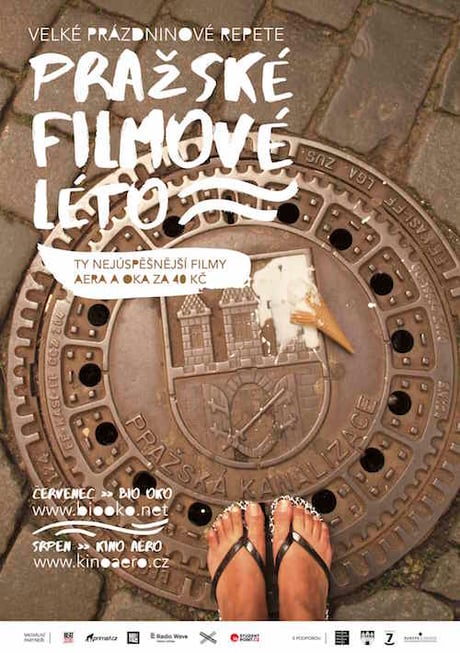 What are you working on right now?
Everything I'm currently doing is a buildup to next year's final show but I am also working at GrafikShop - which as you know was started by one of our alumni, Panagiotis Polyviou. I'm a junior graphic designer, but I'm also involved in production, printing, cutting, and even delivering. By far the most interesting project I've undertaken was for a client who were a dance company in Frankfurt.

And what about the future?
Well, I'd love to get a job in an agency that suits my style, and which would help me develop skills in the areas I really like: digital, some experimental design - not so much print to be honest. I can see myself running my own place once I have the experience.

And what I would really like to do eventually is work half the year in the city and then return every six months to the island.
---