Quiet Noise, Subtle Fury: An Interview with Lamija Čehajić
by Matthew Butler, on 24 April 2019 11:29:41 CEST
Lamija Čehajić, BA (Hons) Fine Art Experimental Media student in her final semester, recently won the jury award at Sarajevska zima (Sarajevo Winter), a Bosnian international festival for young artists in the field of fine arts, film and literature.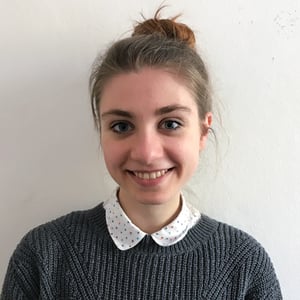 We spoke with Lamija about what this prize means, art, war, and her studies in Prague.
First of all, congratulations on winning the Jury Award for the festival. Can you tell us what your work was about?
The annual topic for the festival was "Noise and Fury", and I had to somehow respond to this topic. I realised that most of my work was almost an antithesis to this because it is about what comes after the violence. This is something that I have been working with since September 2017. After taking part in the exhibition 4+4, I discovered this is something I am really interested in.
It helped me to reflect on the context from which I came from, which is postwar Bosnia. Recovering after the war, and how we as a generation that never had to deal with war, how do we deal with trauma that is almost inheritable, which is felt but not fully understood. So my work has been about this, and the work I put up as part of the festival in February also continued from this, especially as the topic itself was about something violent, about something loud. So my work comes as something soft, that mends, that tries to heal.
Is this a theme that runs through your work? What is your interest in healing as a concept?
I think that it comes as a natural response, which carries a personal responsibility. That I happen to be in a space that somehow the previous generation could not deal with in a constructive manner. They could not recuperate on their own after the war. That the generation that is coming in has to really take care of this. A lot of my interest came from my theoretical reading on memory, politics and collective memory. So I am also interested in how memory enters the political domain, so I feel like my work has the political aspects as well, but also aesthetically.
For example I work with wool because this is something that is important for the context where I am from. Wool is something that heals and keeps warms. For me using something that extends from the land allows me to talk about collective memory that is almost molecularly distilled into the landscape.
The problem is how to position the work in the public domain, or even present it to the public. That is currently my biggest problem. How do I present my work in a space because it is kind of small and not that visible.
Do you feel like your studies have been able to help you to formulate your positions in any way?
The academic approach to teaching and learning about art has been very useful. I feel that it facilitated an independence, and forced me to be an independent creator. The classes here have been structured in a manner that does not allow a lot of skills with guidance. So everyone needs to really invest their time and interest in doing what they are primarily interested in, and for me this was very good, and it really prepared me to work on my own when I finish. It has given me the skills to find the skills I need to make something. And of course having a more personal relationship with the lecturers and everyone helps a lot and this is probably the most valuable thing I got from this programme. A lot of people don't understand this. There are amazing people who work here and they have so many connections to the outside world, in the industry and external to Prague College. A lot of people don't understand that this is a part of the learning process. For me this was very important, and through this I got an internship, and now I have a second one. All of it comes through having established a relationship with the lecturers. Because I got recommendations and so on. Some people just don't appreciate this so much.
And now you are finishing your Bachelor's degree and final show. Do you have plans to continue to work as an artist? How do you feel about your future working in this field?
In September I have enrolled in Charles University, because I realised that I wanted a space where I could have deadlines about reading and writing. This will be a second Bachelor's degree. For me this pattern really works with a lot of research based art. Then I would like to do a Masters programme in something like critical study, or research based art. And then maybe onto a PhD and continue in the academic path. But I will make my work as well. I realize that I need to go back to Bosnia as well. This is perhaps the way how to make the mending that is in my work enter the public sphere. I would like to open my own space, with a gallery or contemporary art center with a residency in Bosnia. I see myself as going between Prague and Bosnia, living the artist life between. But I think I need to have a base there as well and open something, because the contemporary art scene is very weak there, basically non existent. And I feel that I have the motivation and knowledge to do so. So I am now doing some initial research on how to do it. This is really the peak purpose of my work.
How is Prague for you as a city of art and culture?
Prague has been very accepting. Because I was born here and it has also felt like an alternative to back home. When it comes to art I don't necessarily see my work as something that could be widely accepted here. Which is something that troubles me a bit.
Why is that?
I think that it's because my work is about a certain context that it not so understood, and also visually it's not loud enough in the popular Czech art scene.
Do people in Bosnia have a better understanding of what you are trying to do?
I don't think they have a formal understanding that comes from a formal education but they relate to it on a personal level, more intuitive. That with my show it was difficult for them to understand why it was art but they understood what it was I was trying to convey. That's possibly one of the reasons I want to open a space. Not to show my work but to have a platform where discourse can be made. Now there is no discourse and in a couple of years I hope to be a person that has enough knowledge to make something where people come and there is a debate going on.
Congratulations again and we look forward to seeing your graduate show in May. Best of luck to you in the future.