From foundational study to sustainable development
by Alex Went, on 19 June 2018 13:45:39 CEST
Samantha Ng came to Prague College for just one year to study for a Foundation Diploma in Art & Design. We spoke to her about her time here, her inspirations and her final project.
Hi Samantha. You've had a varied career up to now: can you tell us about where your life has taken you so far?

I was born in the city of Adelaide, Australia, but went to high school in Brisbane. In high school I made a lot of friends who were Japanese and I became really interested in Japanese culture and the language, so I decided to study it in university along with a Bachelor of Education. After I graduated, I moved to Kobe, Japan, where I taught English to teenagers at a private girls' school. Working and living abroad was an experience I really enjoyed and it opened my eyes to different ways of living and thinking.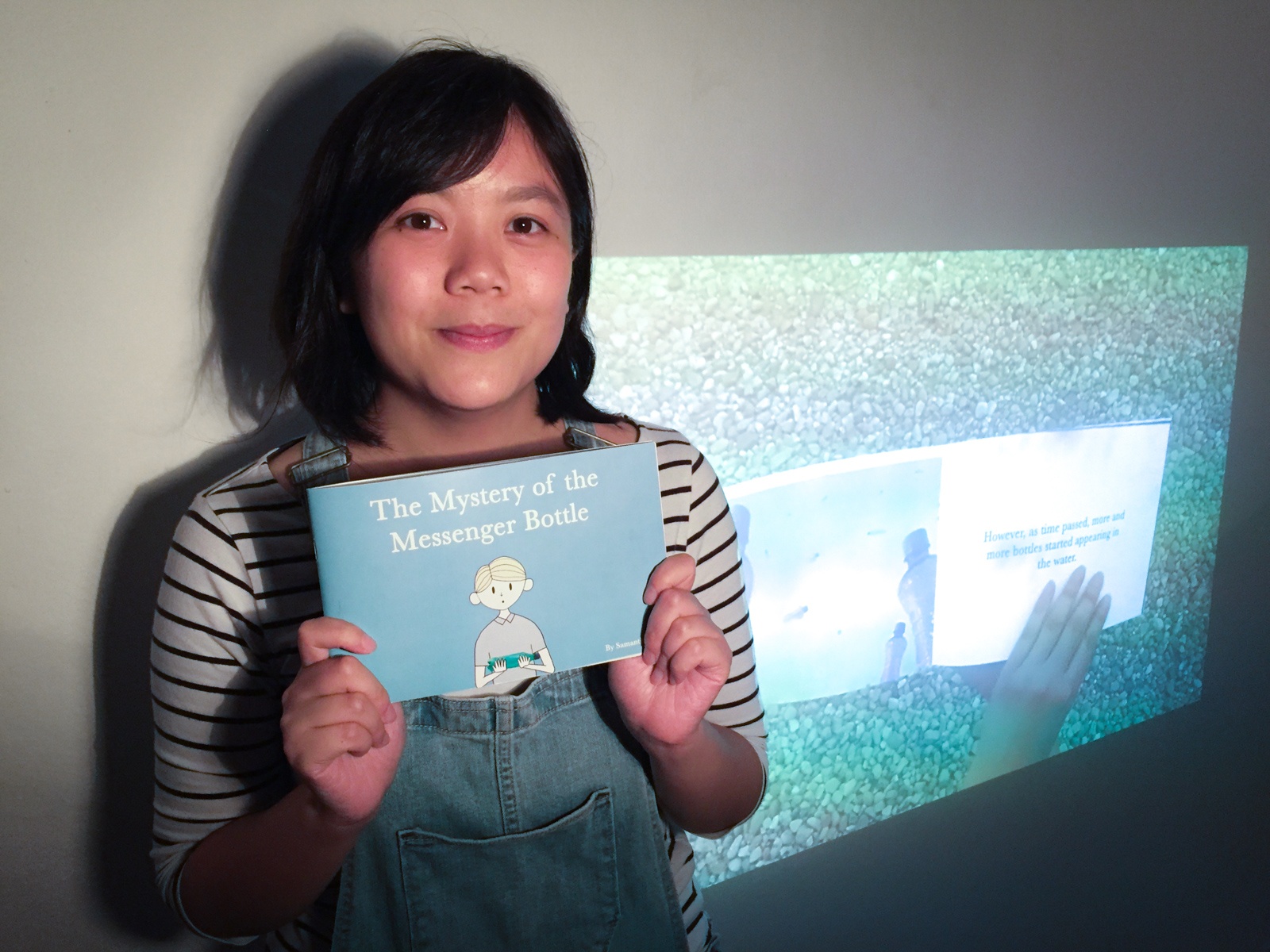 What was the idea of coming to Europe for a year, and why did you choose Prague College?
As a teacher, I often designed materials for my classes and even illustrated a tiny mascot for our annual English camp. All of these experiences made me realise that I really enjoyed art and design, and that I wanted to explore them in more detail. However, having little to no experience with painting or software programs such as Photoshop or InDesign, I realised that I was greatly in need of guidance. After much research, I discovered the Foundation Diploma in Art and Design at Prague College. This programme really appealed to me because of its focus on experimentation and exploration using all types of mediums.
The theme for your current project is plastic waste and sustainability of the oceans. How did you come to choose that particular topic?
A number of my friends actively try to be environmentally conscious by recycling plastics and not accepting plastic bags from stores. This made me conscious of how much plastic I used in my everyday life and encouraged me to choose this topic for my picture book. In the same way that my friends inspired me, I wanted to motivate a younger generation (and their parents) to be more conscious consumers and to consider what happens to their plastic after it's thrown away. Often enough, our plastic ends up in the ocean and has a profoundly negative effect on marine life. I don't want our convenient lifestyles to hurt marine animals such as Annabelle – the sea lion and friend of the little boy in the book.
Is the storytelling aspect of your work something you have done before? Do you hope to develop this or other stories in future?
Before becoming a high school teacher in Japan, I used to teach English to infants. I would often read picture books to them, and they absolutely loved the stories and the pictures. In fact, many of the picture book stories had great life lessons in them, which is why I thought it would be the perfect medium for discussing plastic pollution. I really enjoyed the whole process of making my picture book, and I would love to have it or one of my stories published in the future. I am steadily seeing more picture books that have environmental themes or meaningful values in them, and I would love to be a part of this movement towards a kinder and cleaner world.
You are about to return to Australia. What has your year in Prague given you that you will most remember?
I have had a wonderful year in Prague and at Prague College. My classes were small, so I got to know my classmates well and my teachers were very easy-going and friendly. The atmosphere was welcoming and I got to know people from many different countries. I also got to meet a lot of new people through a hobby I took up in Prague – pottery. If you're new to Prague, I highly recommend taking up a hobby or joining a club. Not only will you make new friends, you'll probably learn something cool too. Spending time with my classmates, teachers and friends is the thing I will remember the most from my time in Prague. The city is of course amazing, but the people I met were even more so.