Good practice in Graphic Design
by Alex Went, on 06 September 2016 13:00:00 CEST
Our Graphic Design programme is being adjusted in order to further improve first-year students' understanding of the production process.
A new module, called 'Graphic Design Production and Good Creative Practice' will form part of the first semester from this September.
Programme leader Sean McAlorum explains that the module is designed to introduce the possibilities and materials available to students in terms of how to print and how to prepare their work for various forms of production, for example packaging or magazines.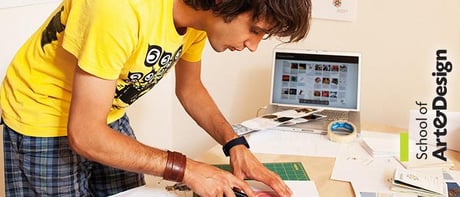 'Overall they will be given more confidence in preparing their work for future submissions, and learn at an early stage to take even greater pride in their work,' he says.
'Students will also be encouraged about good sketchbook usage (physical and/or digital) and generally they will be informed of more modern techniques of how to record their process, as this is an important aspect of grading for the Bachelor's programme.'
The move is part of a general shift of approach in order to help students think about production much earlier. This in turn reflects the fact that many students will already be involved in some sort of internship with an outside company or agency in the second year of their studies.