Master Speaker Series: Dr McCauley-Smith, Re-imagining good work in SMEs
by Larissa Petryca, on 20 April 2021 10:43:00 CEST
Wednesday 28 April | 7pm | Zoom Lecture & Facebook Livestream
Dr Catherine McCauley-Smith from Teesside University International Business School, will present new remote and hybrid work practices developed by The Centre of SME Development and the Institute for Research into Organisations, Work and Employment at the University of Central Lancashire.
These institutions worked with regional partners across Northern regions of the United Kingdom to provide small to medium sized enterprises (SMEs) with a set of principles to support remote and hybrid working. These principles are underpinned with rigorous research carried out during the Covid-19 pandemic, sense checked with the SME community and developed in dialogue with business and business support organisations.
The six principles that were developed aim to support businesses in managing remote or hybrid workers and focus on flexibility, skills, development and training, employees voice, social relationships, digital presenteeism and physical and mental health and wellbeing.
Businesses embracing these principles have all reported higher levels employee satisfaction as opposed to those only implementing one or two. They work together holistically and are designed to support the resilience and productivity of SMEs across sectors.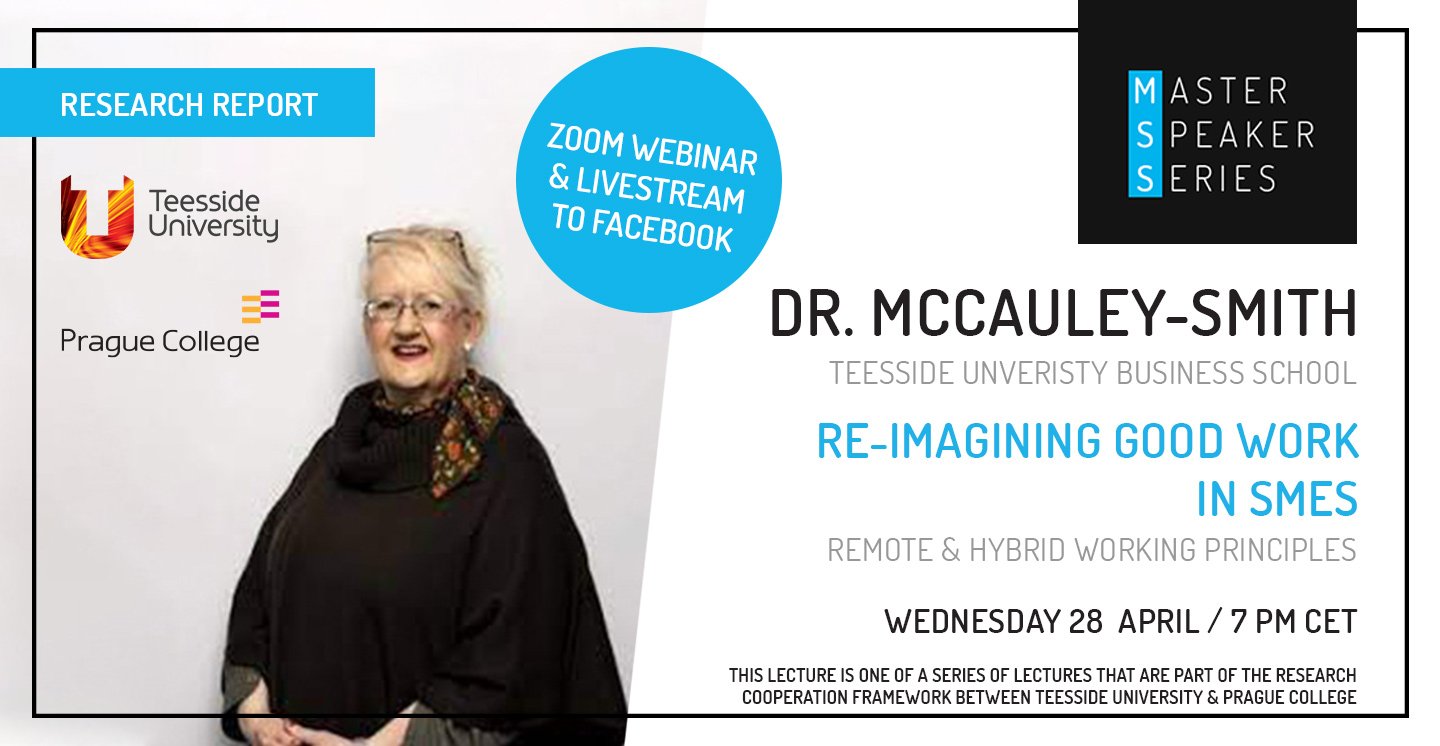 This is a unique opportunity to hear first-hand about this progressive project and subsequent principles that were developed, along with the chance to participate in a Q&A.
Dr Catherine McCauley-Smith is a specialist in designing and delivering leadership and change development tools and has over thirty five years of leadership and management experience in the private, public and voluntary sectors. She has worked across the globe in the UK, USA and North West Europe in hundreds of small and medium companies and is widely published in the field of organisational development, leading and sustaining change and performance improvement.
This lecture is one of a series of lectures that are part of the research cooperation framework between Teesside University and PCU.