Creative Media Production Guest Lecture: Photojournalist Antonio Cossa
by Matthew Butler, on 14 October 2019 00:00:00 CEST
Thursday 17 October 2019 | 11am | Room 209
Photojournalist Antonio Cossa will speak at Prague College on October 17th Thursday.
Antonio Cossa will give a lecture about his assignment in Mozambique, covering the situation of people surviving of floods and hurricanes due to climate change.
He will also speak about his recent trip to Hong Kong where he documented the demonstrations from the viewpoints of both demonstrators and the police. He will cover about the reality of what is happening there now and what the media is not reporting. He will share his photos and videos that he took and describe them throughout his lecture.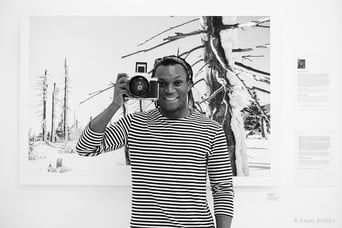 Antonio Cossa is a photojournalist that specializes in photo-documentary, literary journalism and film work. He has had the privilege to do portraits of celebrities and public figures such as Nelson Mandela, the Dalai Lama, Robert Mugabe, Mike Tyson, Richard Gere, John Travolta, Vaclav Havel, Jean Reno, William Dafoe, BB King, Marilyn Mason, Steven Spiel Berg, Uma Thurman and many more. He has been working on the frontline in the worst refugee crisis since World War 2. He started to document the refugee journey from the Greek Island of Lesbos through Macedonia, Serbia, Hungary, Slovenia and the Austrian border. He has covered the Rohingya crisis in Bangladesh and the Myanmar border. He spent a lot of time in the refugee camp in Calais covering the people's day-to-day lives.

His work has been shown in many international galleries and museums throughout Europe and Africa. Antonio continues to organize lectures at universities and non-governmental institutions in order to share the stories and conditions of people who are victims of poverty, injustice and other humanitarian issues. The main aim is to give a voice to those in need and at the same time show the public issues we face in our daily lives and that together we can find solutions through open debate and brainstorming
Open and free for all Prague College students and lecturers who RSVP by email by 16 October 5pm to Veronika Dostálová.