Student documentary film FOUND nominated for International Awards
by Larissa Petryca, on 02 October 2020 13:10:18 CEST
Creative Media Production student Gigi Greene's short documentary film FOUND featuring MA Fine Art student Kjersti Austdal, has garnered international attention and received several award nominations over the last few months.
FOUND, filmed last autumn in Prague, was created for Gigi's Documentary Film class. The documentary follows the evolution of Austdal's project Crystal Clear, a site-specific sound artwork based on bohemian crystal chandeliers. Austdal, who works with found objects, opens up and shares her story, her ideas and philosophies relating to her work and life.
As the Creator, Director and Producer, Gigi shared that:
"I knew I wanted to make a short documentary about the arts, while subsequently spreading awareness of an important global issue. Through working with Kjersti, a very talented, young visual artist who creates her art from found or used materials, I was able to do just that."
"It made me really happy to work with Kjersti because it also enabled her to share her story with the public.
She was so much fun to work with and I actually learned so much from her in the process of making the documentary. She is a Master's student of Fine Arts at Prague City University, so it was a unique opportunity to work with someone from a different discipline."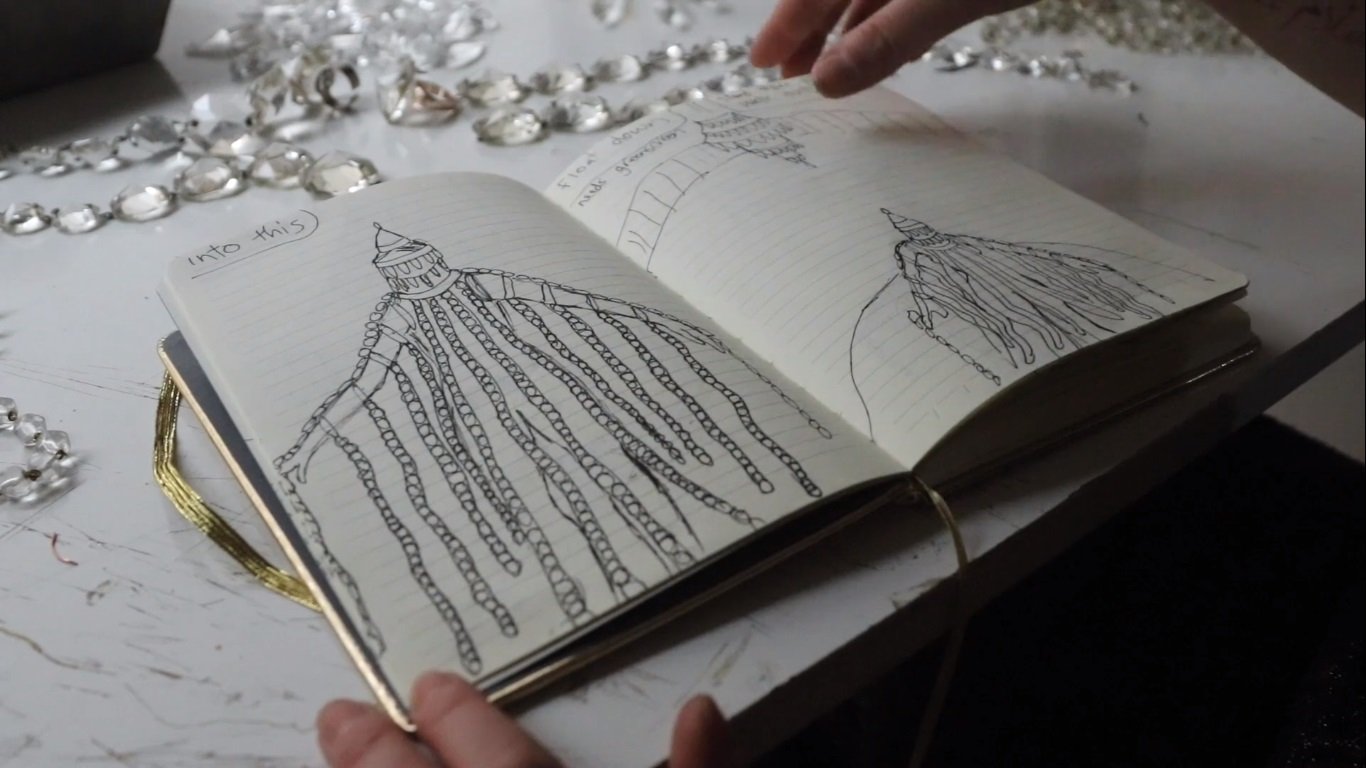 FOUND was selected as a finalist in two categories at the Košice International Film Festival in May. In July the film was selected as a finalist for Prague Independent Film Festival, and just recently the film was nominated for four awards: First time filmmaker, Best Student Film, Best Short Film and Best Documentary for the HER International Festival, a festival dedicated to young women working in film.
We are excited to be able to share with you Gigi's nominated film below and wish her the very best while she awaits the results from the HER International Festival.
FOUND. by Gigi Greene on Vimeo.
Gigi Greene is a Filmmaker from California, USA who is currently in her second year of studying Creative Media Production at PCU. She is passionate about documentary filmmaking because it has the potential to make a positive impact in the world through sharing a message or story.
Kjersti Austdal is an artist from Norway who has just graduated from Master's in Fine Art at PCU. She is a collector, gathering objects from the streets that serve as puzzle pieces for her sculptures, installations and performances. Before moving to Prague she worked as the Manager and Curator for Galleri Kladden, a small but feisty gallery at the heart of Stampen Cultural Centre, a maze of artist and music studios, hosting events ranging from raves and exhibitions to aerial yoga. After graduating with a BFA in 2017 she exhibited at The National Museum of Contemporary Art in Oslo, Kümmelholmen Kunstsenter in Stockholm, The Mothership in New York and National Centre for Contemporary Art in Moscow.