Top 10 Reasons Why There is "No Time To Waste"
by Alice Buehler, on 13 September 2019 12:16:21 CEST
Final reflection on the annual theme of the Living Futures initiative
Prague College students, lecturers and staff showed what's possible when an institution gets behind an idea and devotes its resources, energy and skill to working with greater personal and societal problems. In the academic year 2018/19 the Living Futures initiative launched its first college-wide theme: No Time To Waste, which asked the community to focus on personal and societal responses to the environmental crisis.
So here they are, the top 10 ways the theme made a meaningful impact on the students and culture at the College, and could be the inspiration for driving further change in society.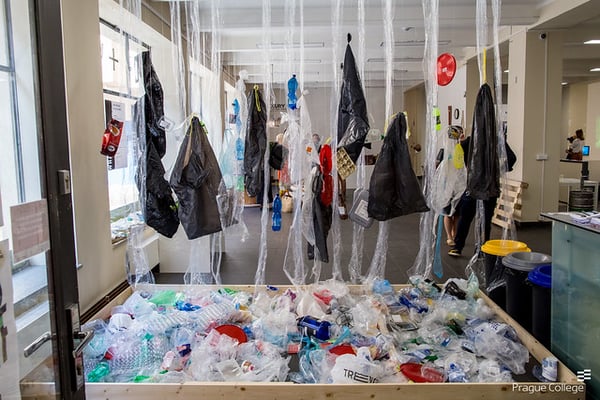 1. Caring for the wider world
Over the years many of our lecturers, staff and students have been involved in projects concerning the environment, ethics, social and ecological themes as well as cutting edge creative endeavours. With our annual theme these efforts and interests became more acknowledged, organised, documented and supported as a part of the academic and community life of the College.
The lecturers and staff recognize our responsibility as an educational institution to be part of the movement bringing solutions to contemporary challenges, and students appreciate that their work is taking their future into account. The importance of the theme was captured in this video project by our first year Creative Media Production student, Htut Lynn Zaw.
Prague College students participating in Fridays for Future.
2. Connecting to and supporting inspiring companies and their efforts in the world
We are proud to be a part of a growing network of many interesting small and large companies. Students connected to and supported the missions of multiple organisations over the year. Some examples include our Creative Media students who created a promotional video for Rekola.
Wojciech Januszauskas from the Graphic Design programme followed his interest in Upcycling by creating a video documentary presenting the deeper philosophy behind one such company.
Throughout the year we have been interacting, championing and being supported by many such companies. Some presented their work and trained our students, such as INCIEN (Institute for Circular Economy), Minimum Waste or Moment charity shop. Other companies such as Bezobalu, Econea, Prague Green City Guide or PURO Bistro, recognised our efforts and students by providing refreshments and prizes for the best student work.
3. Being part of the community
Prague College students, who come from over 70 different countries, understand the value of community. They are interested in charity work and being involved in local efforts. As a part of an assignment on preparing and executing a team project, students from the Foundation Diploma in Business programme followed through by planting a cherry tree on an empty lot on a street next to the college.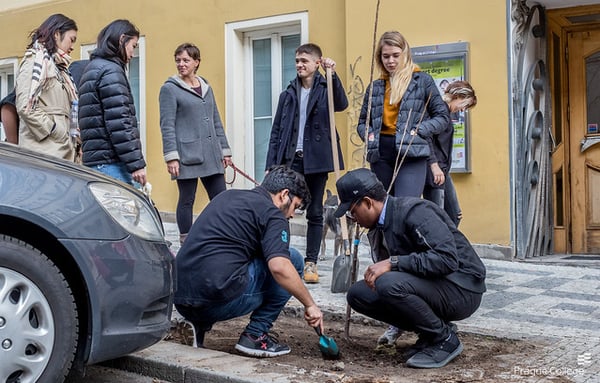 Our Computing students are also involved in an ongoing charity project which collects and restores second-hand computers for new use by underprivileged children.
Second year Graphic Design student Iman Delic developed training materials, contacted schools and introduced children to Zero Waste principles in her workshops.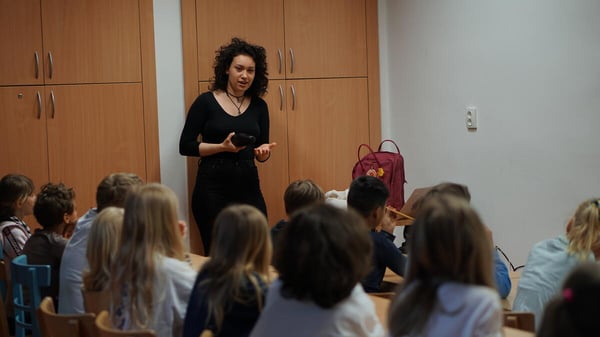 4. Deepening in research
Our students carried out rigorous research which became the basis for developing creative solutions for social problems. Several students in MA Future Design carried out deep research into areas touching on the annual theme. One student, for example, developed extensive research on how to find and make use of discarded materials which could still be used and repurposed by different people in the creative world.
Other students' research included the use of new materials such as coconut waste or home-grown cellulose, issues related to public spaces in Prague, "zero-waste" packaging and research for an illustration project, slow-fashion business options and an illustrated calendar depicting slow-fashion, as well as research on a ban on single-use plastic in the EU.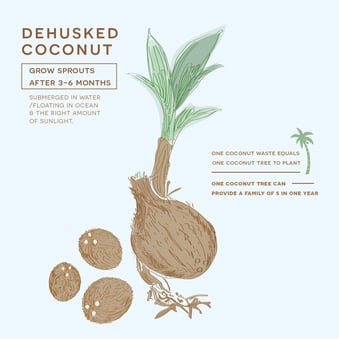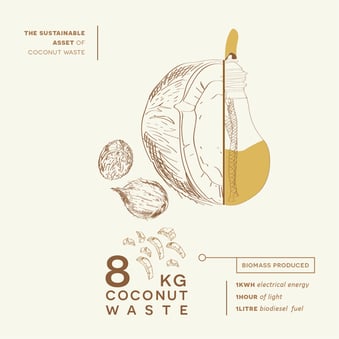 5. Interconnecting within various fields
Over 100 students and lecturers from all programmes participated in the annual theme.
Because of their involvement we were able to bring them all together mainly during two conferences where the best selected student works across the fields were presented and discussed.
Photo gallery: High Time (after the second semester)
6. Bringing innovative solutions to contemporary problems
As we are working with many unprecedented challenges, it is crucial to create opportunities so that young students can come up with fresh and unorthodox solutions.
Many students came up with innovative ideas in regards to materials, processes, and business solutions.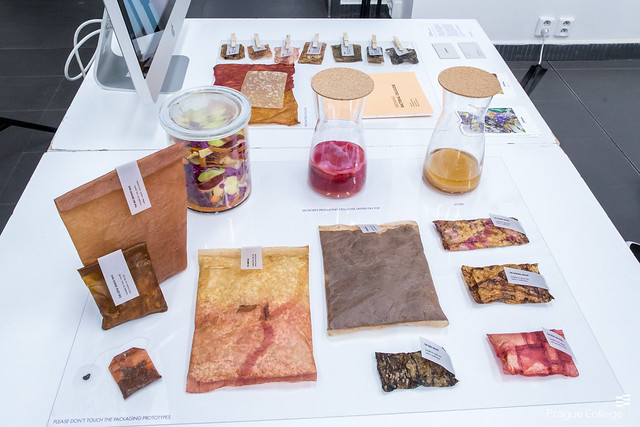 7. Adapting to the job market
During our Careers Fair we had an opportunity to discuss with some of our industry network partners a changing job market and the ways in which environmental challenges are influencing it. It was both inspiring and sobering to learn that even companies known to be some of the most sceptical about the urgency of issues connected to the environment are now looking for ways to become more aware of their environmental impact. With these trends, it is clear that those students who are able to develop skills and knowledge in areas such as sustainability and Circular Economy are increasing their employability.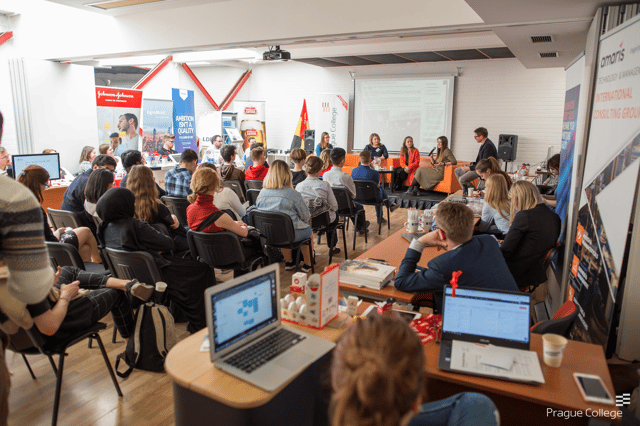 8. Well-being connected to engagement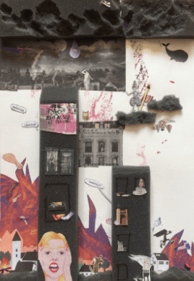 As one of our responsibilities in Student Services is the Health and Well-being of our students, we are aware of the connection between the global challenges we face and individual mental health.
While ignoring or obsessing over these challenges has a negative impact, especially on young people, through learning more about the topic, sharing with others, engaging in action and having some sense of achievement and joy, we believe it is possible to transform depression, anxiety, and a sense of alienation or burnout into a more resilient, empowered and creative confidence among young people as they become more competent and look forward to the future with optimism.
(Illustration by Foundation in Art and Design student Katerina Kosarova).
9. Taking Action
As a final event student Stephanie Hosty stepped up to coordinate our participation in Ukliďme Česko during the global World Cleanup Day.
The event will take place on the 21st of September in the Botic area where there is a small brook and our student dormitories. On the same day there are neighbourhood art and food festivals, where participants of the event can later celebrate their action together. To register for the event you can write to stephanie.hosty@praguecollege.cz
Taking action is exactly the result we wanted to see from our staff and students. Rather than being passive to changes happening in the world around us, as a community we are empowered to act and make a difference.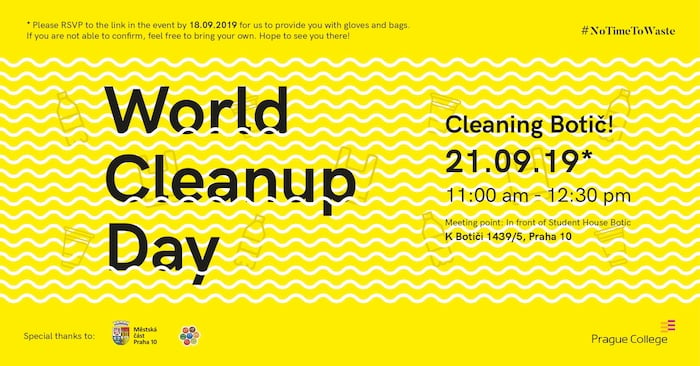 10. We continue on with a new theme...
As we reflect and appreciate the results of the first year's Living Futures theme, we are pleased to reveal the next one for 2019-20. The theme is: Facing Change, and we will kick it off on October 9th with our first speaker, Benedict Allen, who is one of the world's leading modern-day explorers. An author, environmentalist and film-maker, he has spent time throughout his life in some of the most remote indiginous communities on the planet and has first hand experience on what it means to face change in the 21st century.
The new theme offers an opportunity to expand on the previous one but also to approach it through different angles, whether research or action based, and can focus on knowledge but also new skills. Stay tuned for more and see how the Prague College community and beyond can Face Change together!